Dr Kalyani Tharmarajah moved from Perth to Melbourne to complete her Bachelor of Medicine and Surgery and Bachelor of Medical Science (MBBS/BMedSci) at the University of Melbourne. She did her internship at Northern Hospital before rotating between Austin and Northern Health as a junior doctor. In this time, she has competently managed inpatients, led multidisciplinary teams and presented on case studies and evidence-based practice changes at a hospital and departmental level. She went on to do her basic physician training before specialising in Geriatric Medicine. She cites being inspired by the wisdom and humour of older adults and the satisfaction of treating the person 'as a whole' as reasons for choosing this specialty. In her Geriatric training, she has acquired exposure to a variety of settings, including undertaking assessments and management in the home and residential care, working in acute and subacute inpatient settings and working in dementia management units. She has also worked in memory, continence, movement disorder and wound clinics.
In her career thus far, Dr Tharmarajah has worked both in rural and metropolitan settings as well as in both the public and private sectors. She enjoyed conducting telehealth consults to remote aged care residents of the Loddon-Mallee region while working at Bendigo Health. She has had particular interest in psychogeriatric medicine, having worked with NorthWest Mental Health in the Aged Psychiatry Unit at Broadmeadows Hospital. In this role, she has presented at Mental Health Tribunals and advocated for the rights of these inpatients. She was also privileged to be a part of the COVID-19 response to outbreaks in aged care facilities in the Western suburbs during the second wave of the pandemic. She helped to develop clinical guidelines for the management of residential aged care patients with COVID-19 and her team won the Inspire awards for 2020 at Western Health for their dedication to service delivery during this time. She is currently completing a Diploma in Palliative Medicine at Western Health which will complement her current skill set.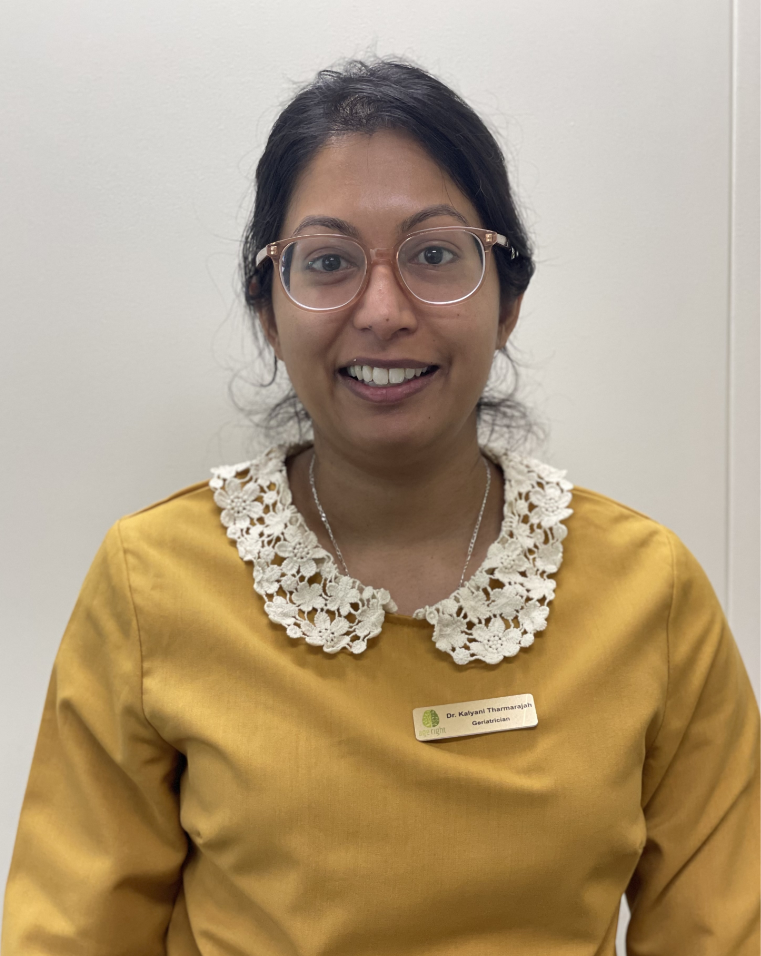 Dr Tharmarajah values holistic, patient-centred care incorporating Choosing Wisely principles of high-value, low-cost care. In line with minimising unnecessary and potentially harmful medications, she undertook research on the uptake of appropriate use of antipsychotics in dementia and delirium in a hospital setting and has presented her work at the Choosing Wisely National Forum. She has also contributed to various other research work in Haematology, Neurology and Respiratory medicine during her career. She is also a passionate educator and mentor, actively partaking in educational activities for medical students through the University of Melbourne as well as being mock examiner for the basic physician trainees. She is dedicated to her work, is an affable colleague and genuinely advocates for the patients under her care. In the future, she hopes to work flexibly in varied roles within the private and public systems and undertake further training in clinical education.
Outside of work Dr Tharmarajah enjoys performing and teaching Indian classical dance and has performed at various events across Melbourne. She also has a keen interest in CrossFit and Agatha Christie novels.
Dr Tharmarajah is available for consultation now, including residential aged care visits. 
Just call us today to book an appointment.